Looking for a new car, truck, SUV, or van? Summit Ford can help you find the right vehicle for you and your passengers. Continue reading to learn more about modern Ford vehicles.
Maverick
The new compact pickup truck on the block. The Ford Maverick is a practical and versatile vehicle with a spacious interior and innovative technology features. With its practical size and impressive towing capabilities, the Maverick is perfect for city dwellers who regularly seek out outdoor adventures.
Ranger
The Ford Ranger is a midsize pickup truck for drivers seeking out a practical vehicle that can hold its own on winding country roads. With considerable towing and hauling capabilities, the Ranger offers drivers paramount utility packaged in a manageable size.
F-150
There's a reason that the Ford F-150 is the Best Selling Vehicle in North America. With a wide variety of cab configurations, bed lengths, trim levels, engine options and optional packages to choose from, there's a perfect F-150 out there for everyone.
Super Duty
Ford Super Duty pickup trucks are built for drivers looking to get as much as possible out of their vehicles. Known for their reliability, durability and exceptional towing performance, the Ford Super Duty-line of pickup trucks are ready to work for you.
Transit Connect
The extremely versatile Ford Transit Connect can be had in several different configurations. Whether you're looking for a people hauler or an urban work van, the Transit Connect can be optioned out to your custom specifications.
Transit Cargo Van
Similar to its smaller sibling, the Ford Transit Cargo Van can also be had in several different configurations. With its larger size, the Transit Cargo Van is unmatched by its competitors when it comes to its cargo hauling and towing capabilities. Equipped with all of the modern driver safety and assistance features customers have come to expect, it's hard to go wrong with the Ford Transit Cargo Van.
EcoSport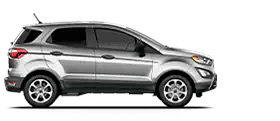 A sub-compact SUV for looking for practicality in a small package, the Ford EcoSport offers generous cargo space for its size, along with a variety of standard technology features. With its compact wheelbase and stellar fuel economy, the EcoSport appeals to fuel-conscious urbanites looking to conquer tight city streets.
Escape
A household nameplate for a reason, the Ford Escape is a comfortable and practical compact SUV. Equipped with Ford's latest infotainment technologies and packed with all of the modern safety & driver assistance features, the Escape is hard to beat.
Bronco Sport
Based on the Ford Escape platform, the Bronco Sport is the compact SUV for those who live an active and outdoor lifestyle. With its rugged styling and considerable off-road capabilities, this all-wheel drive, high ground clearance SUV is to take you and your passengers on all of your road going adventures.
Edge
A refined two-row SUV with sleek styling and well-tuned driving dynamics, the Ford Edge is a mid-size SUV with a ton of curb appeal. Equipped with Ford's latest technologies, spacious cargo capabilities and multiple engine options, it's no surprise that the Ford Edge is loved by many.
Bronco
The all-new Ford Bronco is ready for anything you throw at it. With its exceptional off-road capabilities, rugged styling and modern amenities, the Bronco is always ready for adventure. With several paint options, trim levels and engine options to choose from, there's a perfect Bronco for everyone.
Explorer
An iconic three-row SUV, the Ford Explorer has been hauling around families for decades. With its versatile cargo area, robust towing capabilities and comfortable driving dynamics, the Ford Explorer is the ideal choice for families seeking a modern, stylish SUV.
Expedition
The Ford Expedition is a full-size SUV that blends the utility of a pickup truck with the practicality of an SUV. With its palatial cargo volume, seats for up to eight passengers, and a towing capabilities unmatched by its competitors, the Ford Expedition is the perfect road trip vehicle.
Hybrid & Electric Vehicles
Maverick Hybrid
For those looking for a reliable pickup truck that's fuel efficient, practical and filled with today's latest technologies, look no further than the Ford Maverick Hybrid. This compact hybrid pickup achieves the ideal mix of practicality and efficiency.
F-150 Hybrid
With the utility of a pickup truck and the fuel economy of a mid-sized sedan, the F-150 Hybrid is the ideal vehicle for those looking for versatility and efficiency.
F-150 Lightning
The F-150 electrified. The new F-150 Lightning is an all-electric pickup truck that's filled with innovative EV technologies and the latest safety and driver assistance features. WIth available towing packages, the F-150 Lightning achieves the same towing capabilities drivers have come to expect from the F-150.
Escape Hybrid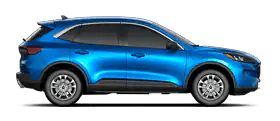 The Ford Escape Hybrid is a comfortable hybrid SUV with a smooth ride that drivers will appreciate. This SUV stands out among others in its class because of its size, internal amenities, and spaciousness.
Explorer Hybrid
This spacious three-row SUV turns up its efficiency with a mild-hybrid system. The Ford Explorer Hybrid is ideal for drivers looking for a family-oriented, fuel-efficient utility vehicle.
E-Transit Cargo Van
The Ford E-Transit Cargo Van will appeal to those looking for a cargo-hauling van with remarkable fuel efficiency. This van is equipped with a wide range of standard features and conveniences in addition to its great utility.
Mustang Mach-E
A luxurious, well-crafted and driver-focused EV, the Ford Mustang Mach-E is a hybrid SUV that few competitors can match. With its thrilling performance, modern styling and high-output yet efficient powertrain options, the Mustang Mach-E is a marvel of modern Ford engineering.
Mustang
A muscle car icon, the Ford Mustang is all-new from the ground up for the 2023 model year. The Mustang satisfies the modern car enthusiasts needs for a rear-wheel drive, naturally aspirated V8-powered two-door sports coupe.
Summit Ford is your go-to dealership in the Etobicoke and surrounding areas for all things Ford. Find your next vehicle at our dealership, where we offer a wide selection of new and pre-owned Ford models to browse through. Looking for a specific model that we don't have in-stock? Don't hesitate to contact us and reserve your vehicle today!